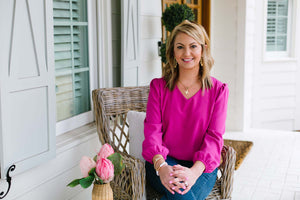 In January of 2015, I was a full-time stay-at-home mom of two young kids. I loved my days at home raising my kids, but I craved a creative outlet. During my down time (what's that?!), I began thinking about how I could quench my thirst to create. After naptime one day, I loaded the kids up in the car and headed to our local craft store. I didn't really have a plan, but I knew I wanted to dive headfirst into design, specifically, jewelry design. I bought materials and headed home.
A simple idea of jewelry design produced a brand called Bijou Southern that specialized in beaded stacking bracelets and eventually beaded necklaces and earrings. My small business thrived, operating out of my home, I could barely keep up with demand. After a few years of growing the jewelry category, my path crossed with another local business owner, Kelly, who owned a gift company called Mary Square. We connected and decided to partner to bring the little jewelry business that all began in my bedroom closet to what it is today. Years passed and demand grew, our category offerings grew, but my love for creating remained the same.
Behind the scenes
Ordering material, organizing it for orders, and then finally jewelry creation. Our famous silk tassel necklaces were always a customer favorite.
From day one, my passion and motto has been to elevate your everyday. Whether you're a stay-at-home mom or a CEO, our desire to look and feel our best in our corners of the world is the same. I strive to help women, no matter what path of life they are on, to look and feel their best each day, for every occasion of life. From jewelry to fashion, Michelle McDowell was created to help you put your best foot fashionably forward.
Memories at Michelle McDowell
Little Helpers
The early days of Michelle McDowell (Previously Bijou Southern) when my dining room turned into the art studio and my helpers gladly pitched in to help mommy string necklaces for customers.
Where It All Started
My husband, Matt, was also an expert necklace maker. He offered his help and support whenever he could, from taking trips to the post office to drop off packages to string necklaces in the evenings. It really was a family business!